support for emerging technology as an art form in order to expand access and diversify the field
Grantee: Visual Studies Workshop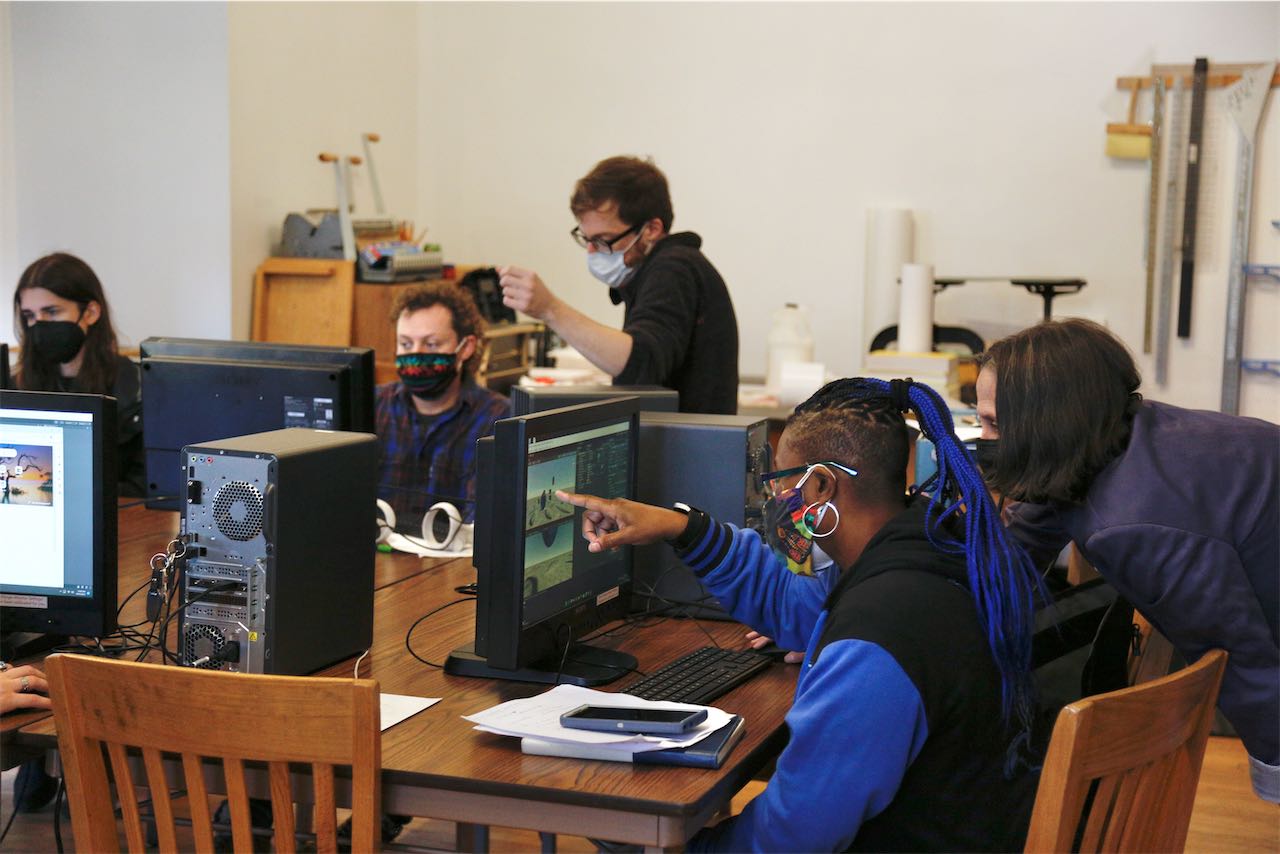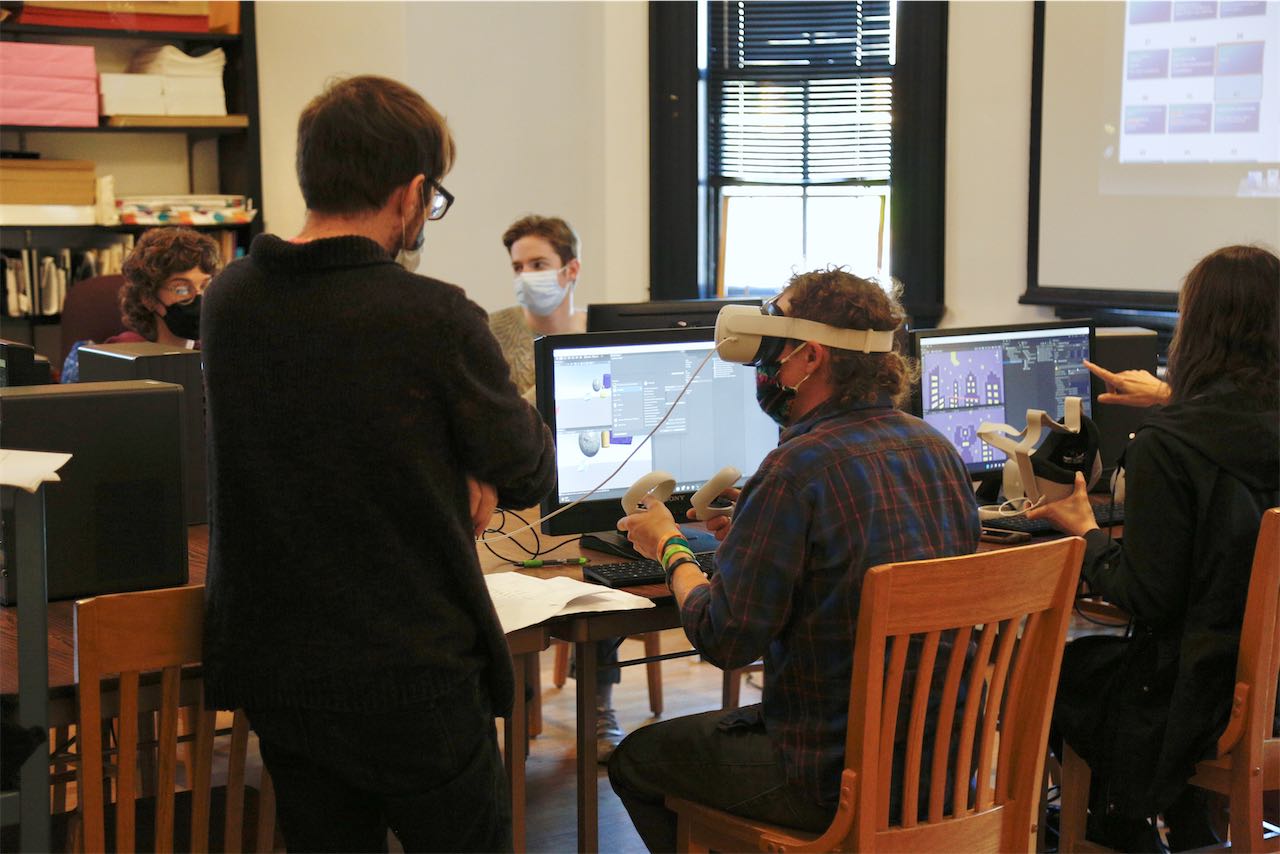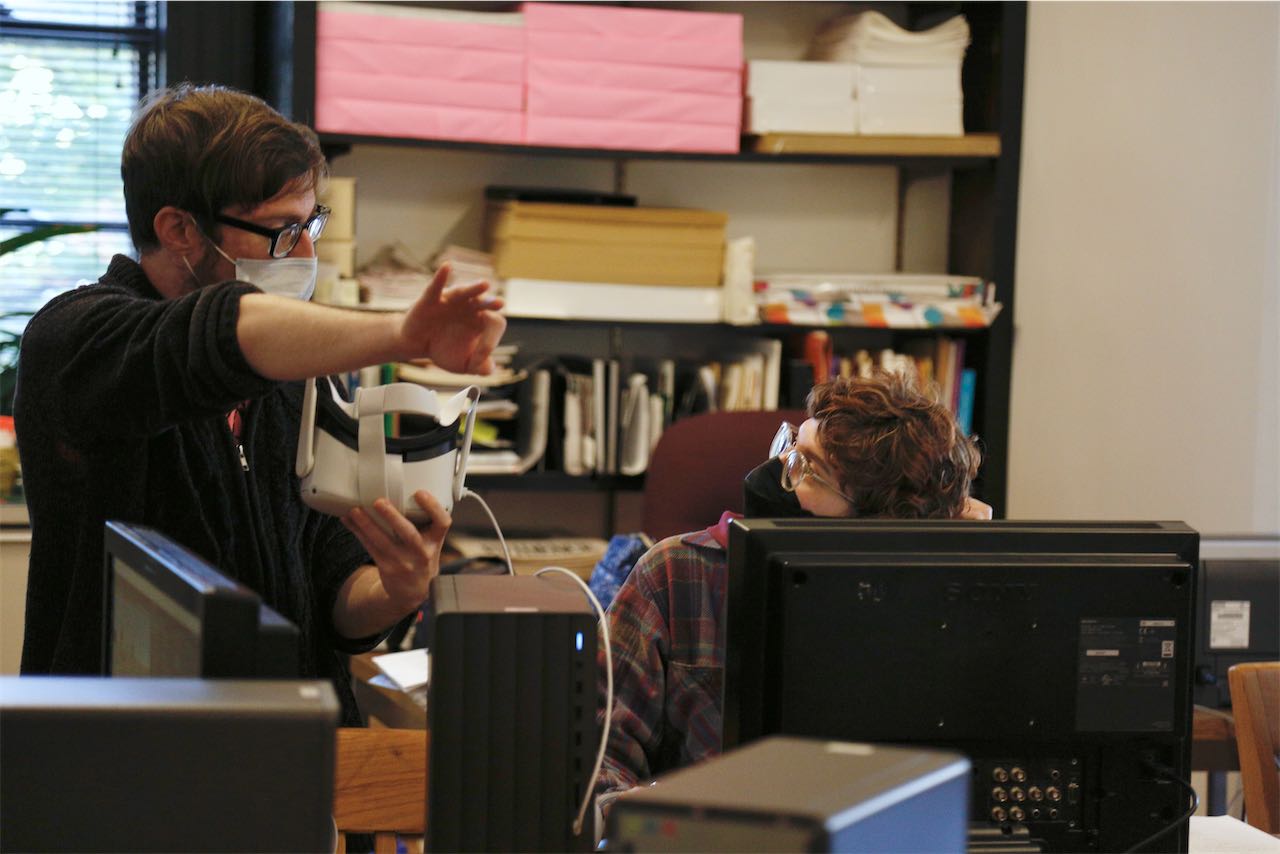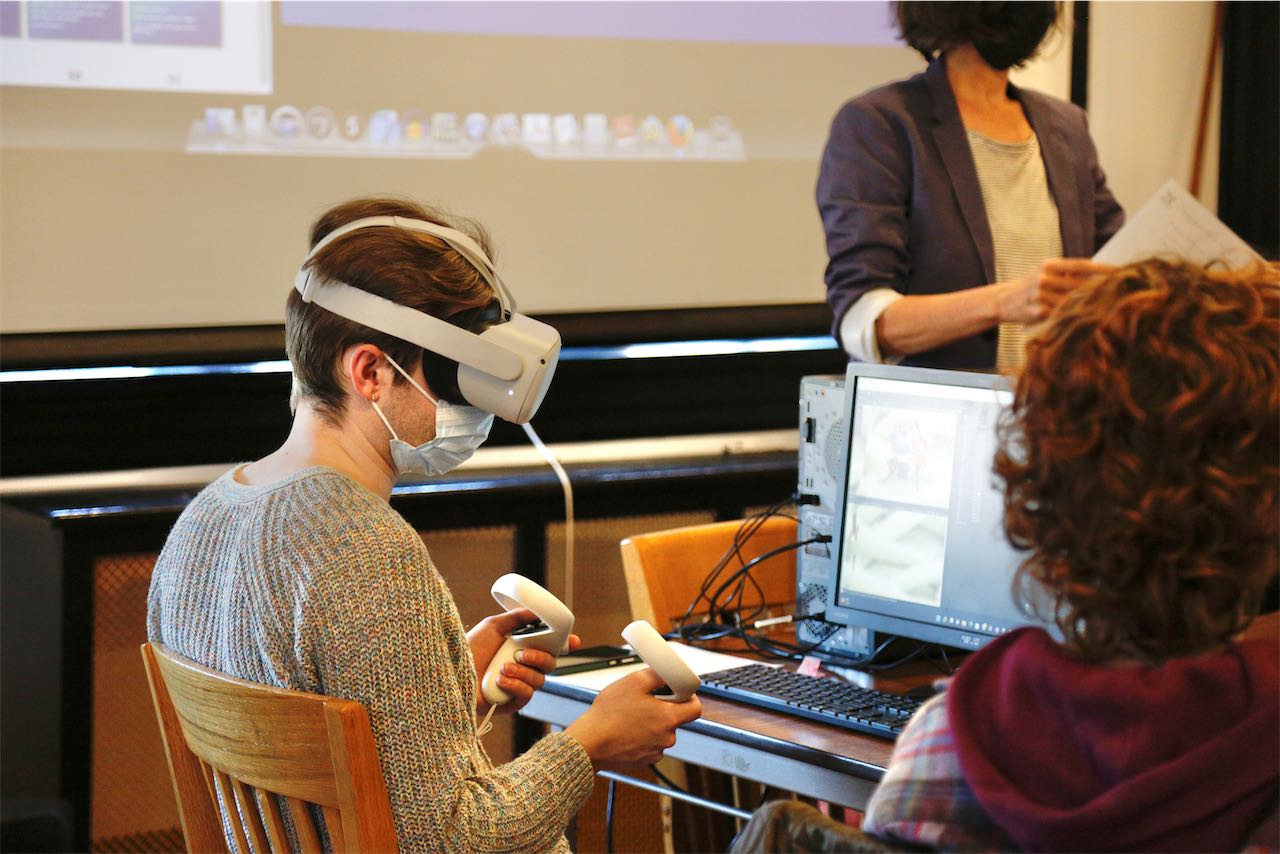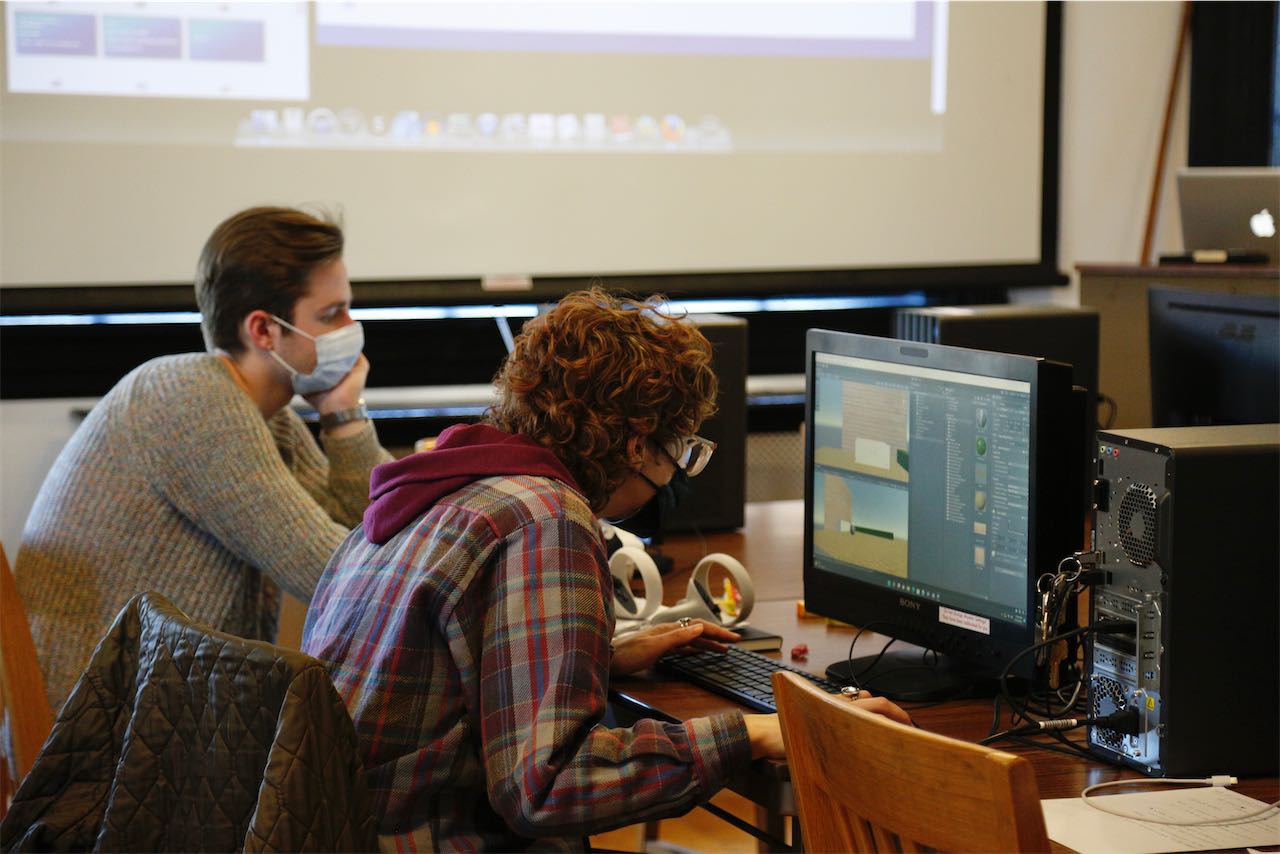 Virtual Reality Workshops at Visual Studies Workshop (VRW@VSW)
Visual Studies Workshop Rochester, NY

Partnering Organizations:
The Mind Agency LLC
Calvin Eaton

Summary
VSW designed a VR lab consisting of 5 PC workstations and 2 Oculus Quest 2 VR headsets, and hosted a Virtual Reality workshop over two weekends in October 2022. Several months prior to the workshops, VSW partnered with anti-racist educator Calvin Eaton to design and distribute a simple survey with a focus on reaching BIPOC and LGBTQIAP+ artists. The purpose of this survey was to find out what artists in our community want and need in regards to VR technology, and to create a pool of eligible participants for the workshop. Five students were chosen at random from this community survey. The workshop was led by artist Rebbekah Palov with assistance from Nilson Carroll, Assistant Curator and Preservation Specialist at VSW. The workshop served as an introduction to the Unity game engine software for artists with no or little background in coding or programming. Students learned a workflow for creating small worlds in the Unity software for use with the Oculus Quest 2 VR headsets. Each student designed their own world that was viewable in virtual reality.
Consulting Artists
VSW collaborated with consulting artist Rebbekah Palov, who created specifications for hardware and software and trained VSW staff on working with the Unity game engine software. Palov designed presentation and curriculum materials and led the four-day workshop on VR.
Rebekkah Palov is a time-based artist, researcher and creative consultant. Her videos and sound-art have been exhibited at experimental film festivals and exhibitions including MassArt Boston, Museum of Arts and Design NYC, SAT Montréal, QC, Bushwick Starr NYC, Oblo Film Festival Lausanne CH and SoundFjord Gallery London UK. She is a member of the electroacoustic ensembles NowNet Arts Hub and Carrier Band. Plus a researcher+curator on contemporary time-based arts, immersive media (VR/AR/AI) and historical research on electronic music pioneer Harald Bode (b.1909). She has been a creative consultant for films and installations by Larry Gottheim and Simon Liu. Rebekkah has developed original curriculum and taught workshops and University courses at Kutztown University, VTape Toronto, and Alfred University.

Instructor Rebbekah Palov assists students at the VR@VSW workshop. October 2022, photo credit Nilson Carroll.
Testimonials
I am an illustrator from the greater Rochester area and I jumped at the chance to take part in this workshop since I have a strong interest in VR and its many applications. Before participating in the VR workshop at VSW I had experienced VR mostly through gaming. I did briefly try my hand at modeling a VR avatar in blender and implementing it in Unity, but I was quickly put off by the apparent complexity of the program. The workshop gave me a basic understanding of what Unity is and how to approach it. I learned that Unity can be "built" to fit your needs. And how there are many tools available which can be ported into Unity. I learned a basic workflow and developed a better understanding of the various elements used to create in Unity (materials, shaders, textures, assets, objects, etc). I was surprised to discover how simple creating environments in unity can be. That it doesn't have to be overly complex or technical. Creating my own environment and seeing it in VR was empowering. I was pleased to see that I could capture the mood and sense of scale that I had imagined, in such little time, using such simple elements. I am interested in continuing to explore Unity and to use it as a tool in my repertoire. I have a little experience creating assets for small video games and having a basic understanding of Unity gets me excited about the sorts of things I can create in that realm. I work mostly as an illustrator and I can think of a couple ways to use what I learned in this workshop in this practice. For example, it could be fun to bring characters I've drawn to life in VR, to interact with them and design hand drawn environments for them to interact with. I played with this later idea a little bit during this workshop, by creating a pixel art skybox and was very excited by the result. - Andrea Bissanti, attendee
Key Takeaways
Rebbekah Palov: Participants were introduced to advanced game development software. The opportunities arising from this access include foundational knowledge to pursue further self-directed learning and growth. Anecdotally, one participant, who characterized themselves as not very 'techie' later in the workshop cannily called themselves a 'developer'. In turn, another participant then identified as a 'coder'. These expressions of creative agency using powerful technologies are a significant outcome. Also, workshops like this which introduce creative approaches with high-level software fill a gap between institutional college or intensive training and training on, lower threshold to entry, closed systems. Continuing state-funded support for media arts equipment and hardware can ensure that these empowering opportunities happen in local arts communities.
Nilson Carroll: Students with initially no background in coding or programming, once given the tools, became excited and inspired by the limitless possibilities of immersive tech. We designed the workshop to serve as a very basic introduction to Unity and using the VR tools because we wanted folks who had never had an opportunity to be able to explore this medium. There is such energy around new media/immersive technology/games from artists but the barrier to enter can be quite high. Through the Immersive Technology Initiative, students were able to freely explore and express themselves in a new way.
Immersive Art & Technology Initiative Grantees